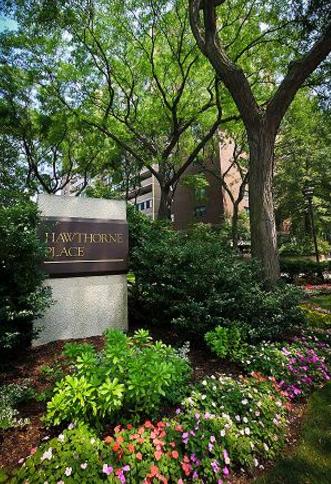 Hawthorne Place Condominium in Boston's West End consists of two modern, high-rise buildings, originally built as rental housing in 1964 and converted to condominiums in 1984. Our community includes 480 residences and 25 professional office suites with professional on-site management. Many of the residences provide attractive views of the Boston cityscape, including the Charles River and its parklands, the Zakim-Bunker Hill Bridge, and the Boston Harbor.
Both high-rise buildings have attractive lobby entrances and offer 24-hour concierge service. Professional suites and condominium office space are located on the lobby levels in One, Three, Eight, and Ten Hawthorne. There are laundry facilities in the basement of each building. Hawthorne Place has two recently renovated Har-Tru® clay tennis courts, with membership available to residents and community members for a nominal fee.   A large Community Room is available for both private functions and community-sponsored events.
Hawthorne Place boasts some of the most beautiful gardens throughout the City.  The grounds include ample seating areas, extensive brickways and a multitude of trees, shrubs, and plantings in a variety of color and blooming periods
Hawthorne Place is pleased to be one of the first Boston area condominiums to pass a Smoking Amendment.  Smoking is prohibited in ALL Units within the Buildings, including individual units, all balconies--whether open or enclosed--and all indoor common use areas including the parking garage.
The condominium has a small number of residents living in the building as of the effective date of the Amendment that was "grandfathered" and exempt from the Smoking Amendment subject to the conditions outlined in the Amendment.  Anyone moving into the building after the effective date may not smoke or allow smoking within the unit or building.
Hawthorne Place has two levels of underground parking as well as an outdoor parking deck. Spaces are available for sale or lease. A portion of the outdoor deck is available on an hourly fee basis for guests of residents and patients of our medical suites.
Hawthorne Place is located within the greater Charles Park community occupying 48 acres of park-like setting with over 2,300 residential units. There is an early childhood center/ primary school - Boston Children's School, and the Clubs at Charles River Park, which consists of a full-service health club, a large outdoor lap pool with cabanas, and a year-round indoor pool. The adjacent Charles Plaza includes a Whole Foods Market and CVS Pharmacy. St. Joseph's Roman Catholic Church and the Boston Synagogue serve the spiritual needs of the community.
Located at the virtual epicenter of Greater Boston, Hawthorne Place is notable for its convenient location adjacent to the Charles River Esplanade and Parklands.  Downtown Boston, including the State House and Financial District, are an easy walk. Cambridge and the Galleria shopping mall are just across the Charles River Dam. Logan International Airport is only minutes away via the Sumner & Callahan Tunnels. The Massachusetts General Hospital, Shriners Hospital for Children and Boston Eye and Ear Infirmary are located just to the west of our buildings. Many medical staff members of both institutions live in Hawthorne Place to be close to work.
Our homeowners' association, Hawthorne Place Condominium Trust, has produced and maintains this site for the convenience and use of all our residents and guests. Whether you are an owner, a renter, or are just interested in joining our community, we welcome you to visit and use this site.